Being released in 2015, 'When Marnie Was There' was yet another huge film to come out under the Studio Ghibli name tag. Therefore, I decided to give the film a go as I wanted to see what else Studio Ghibli could put on our screens for us all to enjoy.
Here is my review.
---
Story Line
Sent from her foster home in the city one summer to a sleepy town by the sea in Hokkaido, Anna dreams her days away among the marshes. She believes she's outside the invisible magic circle to which most people belong – and shuts herself off from everyone around her, wearing her "ordinary face". Anna never expected to meet a friend like Marnie, who does not judge Anna for being just what she is. But no sooner has Anna learned the loveliness of friendship than she begins to wonder about her newfound friend…
 Like all Ghibli films, the storylines are always very different from one another and focus upon real life issues. In this film, it was of the topic of family. The stories discussed between Anna and Marnie shows that not every family is perfect which allows viewers to relate to the situations Anna and Marnie have experienced. Other than the subject of family being integrated into the film, there is also a sense of mystery concerning the background of Marnie. Every second Anna and Marnie are with each other you are constantly keeping your eye out for that one bit of information which could allow you to get to know Marnie a little bit better, however you tend to not find out much until the very end. Some people may agree that the ending is quite emotional as finding out who Marnie is will make you sit there for a bit in shock.
---
Animation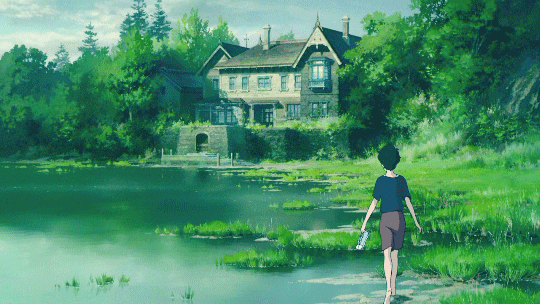 As I've probably stated this before, Studio Ghibli never fail to wow the audience with its visuals. The bright colours mixed with very detailed illustrations capture the viewer's attention and allows them to feel more immersed within the story line. Also, the landscape animations in 'When Marnie Was There' are absolutely stunning, it almost makes me want to go and explore the place that the animations took inspiration from.
---
Characters
The story tends to focus on the main protagonist and the main side character in most scenes which allows the viewer to get to know the characters on more of a personal level, rather than knowing little snippets of each character. In my opinion, the character Anna is a girl who a lot of people who are in a similar situation with her can easily relate to the way she thinks and talks and honestly, I am no exception. The way the film cleverly tackles the subject of family through such characters as Anna and Marnie encourages people to feel comfort and to not worry if their family isn't considered 'normal'.
---
Overall…
I would give this film…
---
Thank you for reading.
Click here to go to my Facebook page.
Click here to go to my homepage.
I hope you have a wonderful day.
-ShowerOfSunshine