I kept seeing loads of recommendations for this anime as some aspects of it are similar to Ouran Highschool Host Club, therefore, I decided to give this one a shot.
It aired during Fall 2016, making it one of the most recent shows to hit our shelves at this moment in time.
Here is my review
---
Story Line
Kae Serinuma is what you'd call a "fujoshi." When she sees boys getting along with each other, she loves to indulge in wild fantasies! One day her favorite anime character dies and the shock causes her to lose a ton of weight. Then four hot guys at school ask her out, but that isn't exciting to her at all — she'd rather see them date each other!
At first, the story was very intriguing especially during the first episode, however after that it slowly started to bore me as it was quite predictable in some places. The comedy was mediocre and I just didn't think it had that 'WOW' factor. From other reviews I have seen, people enjoyed this show mostly because they were able to relate to it on some level whereas I couldn't.
---
Animation
The visuals in this anime were amazing! The varied use of pastel colours made the images pop out from the screen  and encouraged me to keep on watching. In addition, all the other characters were pleasing to look at and allowed me to feel more immersed in the show.
---
Characters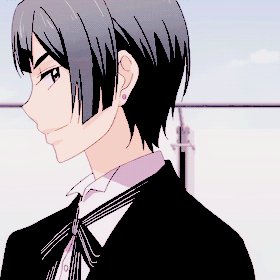 There were some really good characters – like Asuma Mutsumi- and some really boring, basic characters – such as Yuusuke Igarashi. It was almost as if the writers were trying to push the audience into liking the same one as most other reviews talked about one specific  character they liked and left the rest on their own.On a positive note,  I do think Shima Nishina was a very interesting pick of the bunch as she seemed to be very mysterious as she got on with the protagonist a little bit too well and her appeal was very different from other characters I have come across.
---
Overall…
I would give this anime…
---
Thank you for reading.
Click here to go to my Facebook Page.
Click here to go to my homepage.
I hope you have a wonderful day.
-ShowerOfSunshine